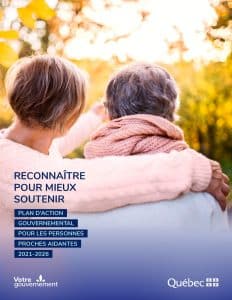 As part of the implementation of Measure 19 of the Government Action Plan for Caregivers 2021-2026, the Ministère de la santé et des services sociaux (MSSS) has entrusted the Centre for Research and Expertise in Social Gerontology (CREGÉS) of the CIUSSS West-Central Montreal with the conceptualization of a training program on caregiving that will be offered to social and healthcare workers, professionals and managers of the Health and Social services Network and of community organizations. Led by project manager Marie-Ève Manseau-Young and under the scientific responsibility of Isabelle Van Pevenage, CREGÉS institutional researcher, the objectives of this training program will be to optimize knowledge and skills regarding the realities and needs of caregivers (CGs) as well as the approaches that can support them, taking into account the diversity of contexts in which CGs are involved.
In order to adequately support CGs in the accomplishment of their role, while respecting their wishes and their capacity for commitment, social and healthcare workers must be able to assess their needs and offer support based on recognized practices, using a partnership approach.   
The training will consist of both core and ''service programs''-specific modules. Other modules will have content aimed at sensitizing social and healthcare professionals to the specific realities of different CG populations. 
For more information, please contact Marie-Eve Manseau-Young, project manager for the development of the training program (marie-eve.manseau-young.ccomtl@ssss.gouv.qc.ca) 
SCIENTIFIC DIRECTOR  - MINISTERIAL MANDATE
Isabelle Van Pevenage,
PhD
Institutional Researcher, CREGÉS
Associate Professor, Département de sociologie, Université de Montréal
TEAM OF PROFESSIONALS  - MINISTERIAL MANDATE
Vicky Lamarche,
TS
Planning, Programming and Research Officer. Domain of Expertise in Caregiving, CREGÉS
Mathilde Pouliot,
BA
Planning, Programming and Research Officer, Domain of Expertise for Caregiving, CREGÉS