CREGÉS COVID-19 INTERVIEWS
A series of short interviews with members of the Centre for Research and Expertise in Social Gerontology (CREGÉS) on the on the social issues of ageing in the context of the coronavirus pandemic. These interviews are hosted by Mélanie Couture, Institutional researcher at CREGÉS.
Soutenir les personnes âgées endeuillées
In this first edition of CREGÉS COVID-19 INTERVIEWS, we will focus on how to support older adults in grieving situations. We will explore the challenges our grieving older adults and our practitioners in this particular context as well as the solutions and resources that can be used to provide support.
Mistreatment of residents in long term care facilities.
With Sarita Israel
In this second edition of CREGÉS COVID-19 INTERVIEWS, we will explore this delicate issue, which has been subject of much attention in the media recently. We will adress how the pandemic has pushed this issue into the forefront as well as explore possible solutions to counter mistreatment of older adults in this care context.
INITIATIVES FROM OUR MEMBERS
COVID-19 exchange platform (private Facebook group).
Under the initiative of CREGÉS researcher Hélène Carbonneau, , the Université du Québec à Trois-Rivières and l'Appui pour les proches aidants d'aînés created a Facebook group, to be a COVID-19 exchange platform for community practitioners. This group will allow its members to share inspiring practices and innovations in community support for older adults, people with disabilities, caregivers, or vulnerable populations.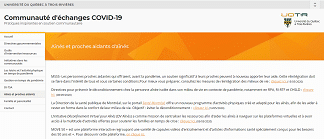 COVID-19 Resource Directory: Older adults and Caregivers of older adults.
Website for archiving content shared within the "COVID-19 Exchange Platform". Find in a tab the content relevant to older adults and caregivers of older adults in loss of autonomy. A grant from the Quebec Network for Research on Aging (RQRV) was awarded to several CREGÉS members to evaluate these initiatives: Hélène Carbonneau (principal researcher), Sophie Éthier, Mélanie Couture, Ginette Aubin, Sébastien Grenier, Valérie Poulin and Martin Caouette (co-researchers).
WEBINARS WITH OUR MEMBERS
Caring for Persons with Dementia in the Context of COVID 19: Navigating Stress, Loss and Grief.
Organized by the Alzheimer Groupe -AGI, this webinar with Tamara Sussman that take place on June 2, 2020 aims to reflect on the unique challenges faced by those who support people with dementia and discuss strategies to manage the inevitable stress, loss and grief associated with this essential role.
Long-Term Care Policy Under the Microscope: A conversation with Patrik Marier.
Organized by the McGill Institute for the Study of Canada (MISC) and the CREGÉS, this webinar with Patrik Marier, in conversation with Daniel Béland took place on June 16, 2020. This webinar complements the article COVID-19 and Long-Term Care Policy for Older People. .
ARTICLES IN PEER-REVIEWED JOURNALS
COVID-19 and long-term care policy for older people in Canada.
Béland, D. & Marier, P. (2020). Journal of Aging & Social Policy, 1-7.
In this article, the authors stress recent developments in Quebec, where a tragedy in a long-term care facility acts as a dramatic milestone. It exposes the problems facing long-term care facilities, considering the existing policy legacies and the possibility of this event facilitating comprehensive policy reforms in the wake of the COVID-19 pandemic.
Ageism and COVID-19: What does our society's response say about us?
Fraser, S., Lagacé, M., Bongué B., Ndeye, N., Guyot, J., Bechard, L., Garcia, L., Taler, V., CCNA Social Inclusion and Stigma Working Group, Adam, S., Beaulieu, M., D Bergeron, C., Boudjemadi, V., Desmette, D., Donizzetti, A. R, Éthier, S., Garon,S., Gillis, M., Levasseur, M., Lortie-Lussier, M., Marier, P., Robitaille, A., Sawchuk, K., Lafontaine, C. & Tougas F. (2020). Age and Ageing. Under Press.
This commentary highlights the ageism which emerged during the COVID-19 pandemic. Over 20 international researchers in the field of aging have contributed to this document.
ARTICLES IN NON PEER-REVIEWED JOURNALS
Les soins de longue durée sous la loupe.
Marier, P. & Béland, D. (2020). Options Politiques. Dossier : La pandémie de coronavirus : la réponse du Canada.
In this article, the authors point out that it took a crisis of unprecedented proportions for the living conditions of older adults in long-term care facilities to mobilize the political leadership. They note the importance of developing a more social and deinstitutionalized vision of long-term care and, from a comparative perspective, they address the issue of provincial choices in long-term care.
Portraits in palliative care : Social Worker Zelda Freitas on the need to reform Residential care and support family caregivers.
In this portrait by Palliative Care McGill, Zelda Freitas, coordinator, Domain of Expertise on Caregiving at CREGÉS speaks about the challenges of caregiving in the context of COVID-19, the importance to include caregivers at the level of the palliative care plan, of her collaborations in promising research projects and her experience in supporting families bereaved by the pandemic.
Podcast: Parce que vieillir au Québec, c'est « notre affaire ».
In this podcast, Ginette Aubin, CREGÉS researcher, joins a panel to discuss social gerontology, home care and the living environments of older adults in Quebec. She speaks about the importance of countering the isolation of older adults and to promote their social participation.
Les places en CHSLD seront-elles encore convoitées?
In this article, Mélanie Couture, Institutional researcher and Sophie Éthier, university researcher at CREGÉS, speak about the image of CHSLDs and their future following the pandemic. They address the issues of mistreatment, access given to caregivers and CHSLDs that have passed from living environments to healthcare settings.
Manque d'intérêt pour le «vieux».
In this article, which deals with complacency and indifference towards "older" citizens and old buildings, Patrik Marier, Scientific Director of CREGÉS, discusses the lack of vision and leadership from governments in advocating for home care and the lack of recognition of the contribution of older adults in society.
COVID-19 Q&A: McGill experts on seniors and family caregivers during the pandemic.
In this article, Shari Brotman and Tamara Sussman, CREGÉS researchers, discuss the situation faced by older adults and family caregivers during the pandemic and the things to be done to improve the situation.
COVID-19 : Mistreatment and mental health.
In this episode, Sarita Israel, Coordinator, Area of Expertise to Counter Mistreatment and Dr. Alexandre Allard, Senior Psychiatry Resident at the Jewish General Hospital address these two key issues facing older adults that have been exarcebated by the increased isolation caused by the pandemic.
Seniors caring for seniors are pandemic's invisible victims.
Tamara Sussman and Shari Brotman, CREGÉS researchers, co-authored this editorial addressing the issue of senior caregivers on the front lines who are putting their health at risk. They question their protection and financial compensations available for these central actors of the home care system.
Âgisme, vieillissement et logement.
Julien Simard, CREGÉS student member and postdoctoral research intern at McGill University's School of Social Work, speaks about the housing market for low-income older adults. He also speaks about the concept of compassionate agism, a form of agist attitude which stands out more in this context of COVID-19.
Le deuil dans les arts et les grands rendez-vous à l'ère du confinement - Le soutien que peut apporter la culture.
In this radio show, Valérie Bourgeois-Guérin, CREGÉS researcher, speaks about the grieving process in a context where social support is limited or transformed. She also speaks about the support culture, arts and humour bring for the bereaved.
Est-ce ainsi que nous voulons vieillir?
In this context of the crisis affecting older adults, Patrik Marier, Scientific Director of CREGÉS, spoke of the underfunding of long-term care, the lack of resources and the low salaries of CHSLD staff, which are linked to the lack of consideration for older adults and the end of life. Anne-Marie Séguin, CREGÉS researcher, discusses the reasoning behind the choice of older adults to live in residences.
Il faut mettre fin à l'âgisme.
Many experts, including CREGÉS researchers Sophie Éthier, Patrik Marier et Kim Sawchuk sign a collective piece to express their concerns about the ageist attitudes consciously or unconsciously expressed during this pandemic.
Les deuils, petits et grands, en temps de pandémie.
Valérie Bourgeois-Guérin, CREGÉS researcher, talks about mourning during confinement and rituals that are turned upside down. She mentions the importance to take the time to talk about the subject to help alleviate certain anxieties and offer a sharing space for those who are grieving. She proposes creative alternatives to support and counter isolation of the bereaved.
L'urgence dans les résidences pour aînés.
Patrik Marier, CREGÉS Scientific Director, speaks about the deficiencies of the healthcare system, particularly the marginalization of long-term care. He discusses the importance of better remuneration but more importantly, the enhancement of the value of the work of people working with older adults and the importance of home-care after the COVID-19 crisis.
De déchirants adieux à distance au temps de la pandémie.
In this article, Valérie Bourgeois-Guérin, a researcher at CREGÉS, points out that a large number of people will have to go through mourning in a particular and unexpected context to which is added the isolation and solitude of confinement. She adds that this situation could create psychological distress and even more difficult grief.