INITIATIVES FROM OUR MEMBERS
Guide to Conducting Collective Bereavement Rituals in Montreal in the time of COVID-19.
Tool produced by the direction de la santé publique of the CIUSSS du Centre-Sud-de l'Île-de-Montréal, in collaboration with a team of experts from the CREGÉS of the CIUSSS West-Central Montreal composed of Valérie Bourgeois-Guérin, university researcher; Isabelle Van Pevenage, institutional researcher and Zelda Freitas, coordinator, domain of Expertise in Caregiving.
COVID-19 exchange platform (private Facebook group).
Under the initiative of CREGÉS researcher Hélène Carbonneau, , the Université du Québec à Trois-Rivières and l'Appui pour les proches aidants d'aînés created a Facebook group, to be a COVID-19 exchange platform for community practitioners. This group will allow its members to share inspiring practices and innovations in community support for older adults, people with disabilities, caregivers, or vulnerable populations.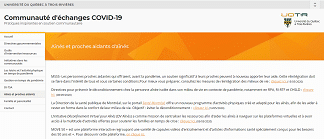 COVID-19 Resource Directory: Older adults and Caregivers of older adults.
Website for archiving content shared within the "COVID-19 Exchange Platform". Find in a tab the content relevant to older adults and caregivers of older adults in loss of autonomy. A grant from the Quebec Network for Research on Aging (RQRV) was awarded to several CREGÉS members to evaluate these initiatives: Hélène Carbonneau (principal researcher), Sophie Éthier, Mélanie Couture, Ginette Aubin, Sébastien Grenier, Valérie Poulin and Martin Caouette (co-researchers).
WEBINARS WITH OUR MEMBERS
ARTICLES IN PEER-REVIEWED JOURNALS
Pandemic Precarity: Aging and Social Engagement.
Hebblethwaite, S., Young, L. and Martin Rubio, T. (2020). Leisure Sciences.
In this article, the authors examines how the pandemic exposed the numerous institutional failures within the leisure and social services sectors in Canada. They argue that these failures enhanced the precarity of already marginalized older adults.
COVID-19 and long-term care policy for older people in Canada.
Béland, D. & Marier, P. (2020). Journal of Aging & Social Policy, 1-7.
In this article, the authors stress recent developments in Quebec, where a tragedy in a long-term care facility acts as a dramatic milestone. It exposes the problems facing long-term care facilities, considering the existing policy legacies and the possibility of this event facilitating comprehensive policy reforms in the wake of the COVID-19 pandemic.
Ageism and COVID-19: What does our society's response say about us?
Fraser, S., Lagacé, M., Bongué B., Ndeye, N., Guyot, J., Bechard, L., Garcia, L., Taler, V., CCNA Social Inclusion and Stigma Working Group, Adam, S., Beaulieu, M., D Bergeron, C., Boudjemadi, V., Desmette, D., Donizzetti, A. R, Éthier, S., Garon,S., Gillis, M., Levasseur, M., Lortie-Lussier, M., Marier, P., Robitaille, A., Sawchuk, K., Lafontaine, C. & Tougas F. (2020). Age and Ageing. Under Press.
This commentary highlights the ageism which emerged during the COVID-19 pandemic. Over 20 international researchers in the field of aging have contributed to this document.
ARTICLES IN NON PEER-REVIEWED JOURNALS
Les soins de longue durée sous la loupe.
Marier, P. & Béland, D. (2020). Options Politiques. Dossier : La pandémie de coronavirus : la réponse du Canada.
In this article, the authors point out that it took a crisis of unprecedented proportions for the living conditions of older adults in long-term care facilities to mobilize the political leadership. They note the importance of developing a more social and deinstitutionalized vision of long-term care and, from a comparative perspective, they address the issue of provincial choices in long-term care.